retrospective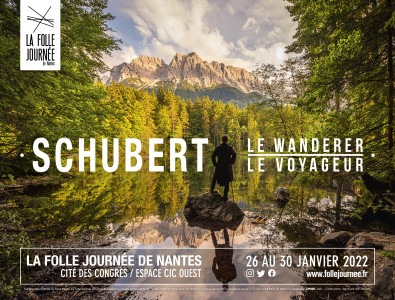 La folle Journée 2022 28e édition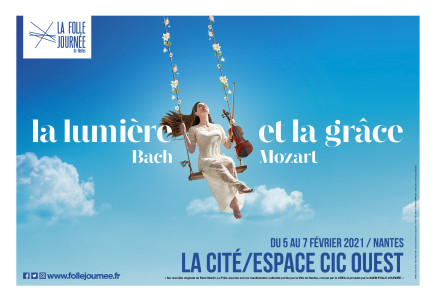 La folle Journée 2021 27e édition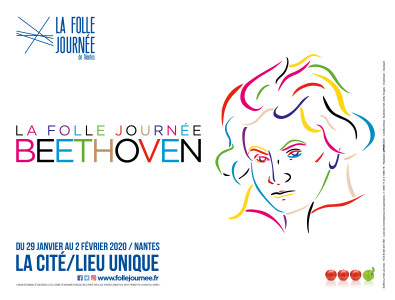 La folle Journée 2020 26e édition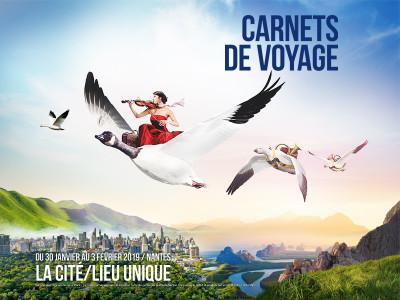 La folle Journée 2019 25e édition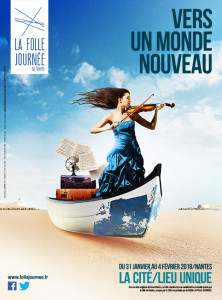 La folle Journée 2018 24e édition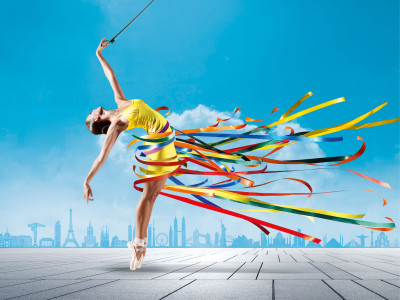 La folle Journée 2017 23e édition
La Folle Journée 2017
LE RYTHME DES PEUPLES - THE RHYTHM OF THE PEOPLE
A primitive form of artistic expression, dance was born of popular genius.
However, from very early on, dance influenced more erudite art music. From the Middle Ages onwards, it was part of life at princely courts, leading to the creation of the very first orchestras. Henceforth, composers developed new works based on dances, adapting the rhythms to suit an instrumental style that became increasingly complex over time. The courantes, gigues and saranbandes composed by Back and Rameau are no longer music for dancing any more than Haydn's minuets, Schuber's ländler or Chopin's waltzes will be at later stages of musical evolution during the classical and romantic periods.
Throughout the 19th century and beyond, composers continued to base their works on dance themes, both in chamber music and in concertos and symphonic works. The ballet tradition reached its peak with Russian composers such as Tchaïkovsky, Borodin, Glazounov, right through to Stravinsky who forged the path towards modernism with his well-known ballet, The Rite of Spring, created by Diaghilev in 1913. At the same time in France, musicians such as Bizet, Debussy, Ravel, Manuel de Falla and Albéniz re-engaged with dances from previous eras - pavane, habanera, bolero ... Ravel's bolero is a famous example of this. Throughout the 20th century dance has continued to inspire musicians, an inspiration which is evident in the close collaborations over recent decades between composers and choreographers, such as John Cage and Merce Cunningham.
René Martin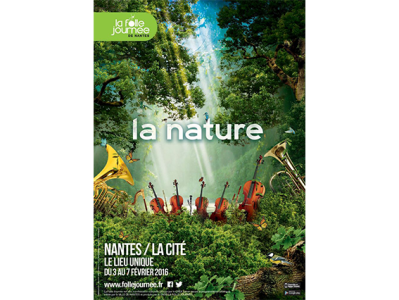 La folle Journée 2016 22e édition
La Folle Journée 2016
NATURE
"Real music is the language of the heart" Jean-Philippe Rameau
The 22nd edition of La Folle Journée explored the universal theme of Nature over five days. From the very beginning, fascinated by the changing of seasons, the diversity of the landscapes, the wildness of the elements, mankind has tried to recreate through the infinite palette of sensations generated by contact with nature. So we could say that music is really born of nature. Nature has inspired musicians across the ages.
From the Renaissance and during the Baroque era, composers such as Clément Janequin, Jean-Philippe Rameau and François Couperin enjoyed incorporating sounds from nature, such as birdsong, into their works. With Vivaldi and his Four Seasons, the vision of nature is more contemplative. A long tradition of pastoral music was introduced through the works of Carl Stamitz and Justin Henri Knecht, who opened up the way for Beethoven's famous Pastoral Symphony. Conducive to contemplation and meditation, nature became a confidante and played an essential role for Romantic composers who sought inspiration during their long walks alone (Schubert, Schumann, Liszt and Brahms). The theme of nature has also inspired musical creation in more recent times: from Claude Debussy to Olivier Messiaen and Toru Takemitsu via Maurice Ravel and Henri Dutilleux. Today, it continues to instil an infinite range of emotions and themes in artists.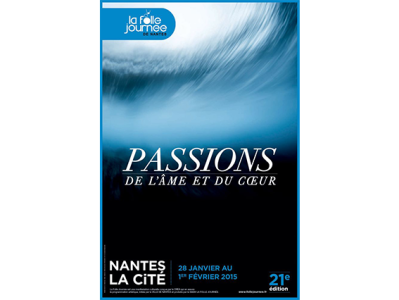 La folle Journée 2015 21e édition
La Folle Journée 2015
PASSIONS OF THE SOUL AND OF THE HEART
"In the face of a work of art, one shouldn't dream, but should endeavour to discover its meaning". Arnold Schœnberg
From January 28th to Sunday 1st February 2015, La Folle Journée explored the central theme of western sensitivity, and more precisely the passions of the soul and of the heart, through a varied repertoire of sacred and profane, inspired and absorbing music. The periods from which works were selected - ranging from the beginnings of the Baroque period through to the 20th Century - invited audiences to question the means through which musicians, from Monteverdi to Schoenberg, chose to translate the inexpressible: the nature and vagaries of the human soul.
The notion of "Passion" primarily appears to refer to the accounts of the suffering and death of Christ, but in profane music it can refer to the movements of a soul that is suffering in some way or is revelling in joy. Important sacred works relate the death of Christ and the pain felt by those witnessing his passion, such as the passions of Schütz or Bach, Membra Jesu Nostri by Buxtehude, Joseph Haydn's Seven Last Words of Christ on the Cross or the stabat mater by Scarlatti, Vivaldi and Pergolèse. A rich body of profane works, both lyrical and instrumental, explore the diversity of human emotions, such as Lamento d'Arianna by Monteverdi and Purcell's Dido's Lament. Other expressive works were explored in this edition of the Festival: Empfindsamkeit (a German movement dating from the 18th Century), Romanticism, opera and lyrical drama. It is this epidemic of emotions that La Folle Journée hoped to reveal, by showing how the expression of feeling and sentiment has always been one of the essential challenges of the creative act.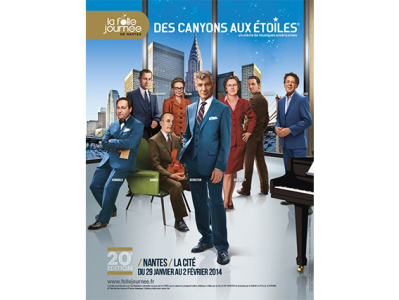 La folle Journée 2014 20e édition
La Folle Journée 2014
FROM DEEP CANYONS TO THE STARS AMERICAN MUSIC OF THE 20TH CENTURY
"The most interesting music of all was made by simply lining the loops in unison, and letting them slowly shift out of phase with each other... " Steve Reich
To celebrate its 20th anniversary, in 2014 La Folle Journée presented a brand new and exciting panorama of American music from 1860 to the present. Georges Gershwin, Leonard Bernstein, Steve Reich and Philip Glass featured on this edition's programme.
Part of the festival was dedicated to exploring a works that had been composed in the United States, a country of refuge for composers who were victims of totalitarian regimes: Serge Rachmaninov, Igor Stravinsky, Arnold Schœnberg and Béla Bartók. The essential role played by various American institutions was also highlighted: many orchestras and the foundations and universities who commissioned major 20th Century works, such as those composed by Luciano Berio, Olivier Messiæn and Henri Dutilleux. Cinema was also honoured in this edition of the festival, with a spotlight on various artists whose professional life had been centred around Hollywood: from Kurt Weill and Erich Wolfgang Korngold to Bernard Hermann (Orson Welles' Citizen Kane, Psychose by Alfred Hitchcock), Hans Zimmer (Rain Man, Gladiator) and John Williams (Star Wars).
Popular American music also featured prominently on the programme, with jazz, blue, negro-spirituals and Broadway musical comedies from de Show Boat (1927) to Hello Dolly (1964) via Porgy and Bess (1935) and My Fair Lady (1956).
Popular American music also featured prominently on the programme, with jazz, blue, negro-spirituals and Broadway musical comedies from de Show Boat (1927) to Hello Dolly (1964) via Porgy and Bess (1935) and My Fair Lady (1956).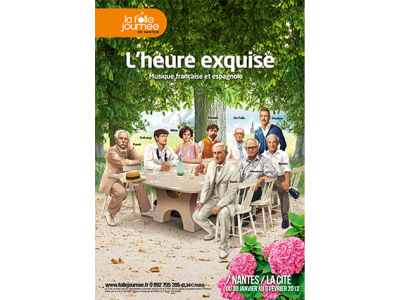 La folle Journée 2013 19e édition
La Folle Journée 2013
L'HEURE EXQUISE
"A profound respect for existence itself is essential with regard to the work that one is listening to, playing or composing. As if it were a question of life or death" Pierre Boulez
For its 19th edition, La Folle Journée chose to trace the history of French and Spanish music from 1850 to the present, including works by George Bizet and Pierre Boulez (whose works covered extensively in this edition) and more particularly the Golden Age of French music, from the 1870s to the 1940s.
Just as the last fires of the Romanticism were dying down with Alkan and as Bizet revolutionized French opera with Carmen, composers such as Camille Saint-Saëns, César Franck, Vincent d'Indy, Fauré, Duparc, Chausson and Albert Roussel amongst others, brought about a genuine renewal of French music, both in orchestral composition and vocal expression. Rich in colour and gentle dissonance, which enhance melodies and soften shapes, this subtle and refined music opened up the way for the two most innovative composers of the turn of the century: Claude Debussy and Maurice Ravel. New movements and numerous sources of inspiration will emerge later on. Spanish composers such as Manuel De Falla, who came to Paris to study, will also have a profound influence on French musicians. The années folles and the jazz movement shake up the French musical landscape with Erik Satie and the famous "Group of Six" musicians, and finally the ephemeral group, "Jeune France", who were active at the end of the 1930s.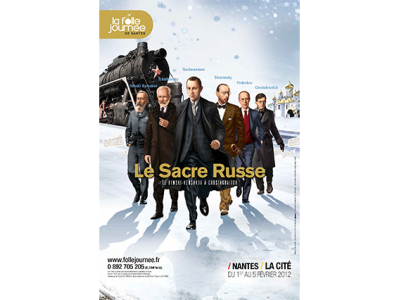 La folle Journée 2012 18e édition
La Folle Journée 2012
SACRED RUSSIA
"Somewhere I said that it wasn't enough to simply hear music, it has to be seen as well." Igor Stravinsky
La Folle Journée 2012 chose to focus its 18th edition on Russian music. It shone the spotlight on the famous "Group of Five" (Balakirev, Cui, Rimski-Korsakov, Borodin, Mussorgsky), to whom we owe the emergence of a genuinely Russian style of music, as well as Tchaikovsky, considered to be the national musician whilst he was alive. The Festival also showcased the works of their successors: Liadov, Arensky and Glazounov, dominant figures on the Russian musical scene at the beginning of the 20th Century, and also Rachmaninov, the last major composer of the great Russian romantic tradition.
This edition also included a performance of a work by Scriabin, who appeared at the beginning of the 20th Century as a pioneer of contemporary musical language and whose musical exploration is followed up by avant-gardists Roslavetz, Lourié and Mossolov. Stravinsky, the eclectic genius whose works reflect the quests and paradoxes of his era also featured prominently at this edition of the La Folle Journée, as did Prokofiev, Shostakovitch and Weinberg. Composers such as Glière, Katchaturian, Kabalevsky, S. Goubaïdoulina, R. Shchedrin, A. Schnittke and A. Pärt completed this extensive overview and performances of their works enabled concert-goers to trace the evolution of Russian music from Glinka to the present.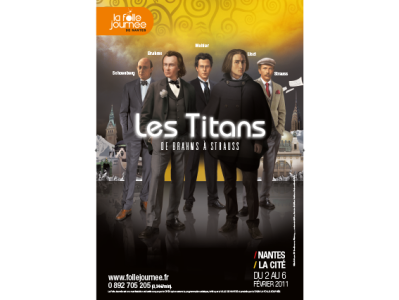 La folle Journée 2011 17e édition
La Folle Journée 2011
THE TITANS: FROM BRAHMS TO STRAUSS
"Brahms' Second Symphony is the anxious tenderness of a glance at the depth of a chanted world"
Maxence Caron
2011'S La Folle Journée was entirely devoted to post-romantic German music. Works from almost a century of music were performed from a period that covered 1850 to 1950, the period of Brahms to Richard Strauss and the Vienna School composers.
Inheritor of the great German tradition and last great Romantic musician, Brahms had a considerable influence on many composers in the second half of the 19th century: Max Bruch and Max Reger to Arnold Schœnberg at the beginning of the 20th century. During the same period, a powerful artistic current developed under Wagner's influence which aimed to renew the depth of musical language. This current attracted the Austrians Bruckner (opposed to Brahms), Mahler, Hugo Wolf, Zemlinsky and the German Richard Strauss, whose long career lasted from the end of the Austro-Hungarian Empire to beyond the Second World War.
Brahms, Wagner, Mahler and Richard Strauss influenced the Vienna School. The Vienna School in turn influenced German composers Paul Hindemith, Carl Orff and Hanns Eisler through the development of its own style.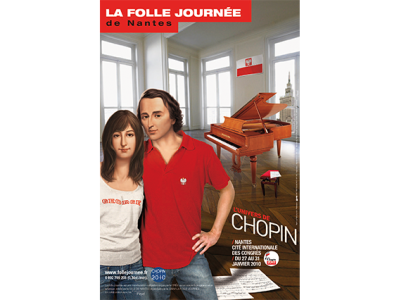 La folle Journée 2010 16e édition
La Folle Journée 2010
"Simplicity is the highest goal, achievable when you have overcome all difficulties. After one has played a vast quantity of notes and more notes, it is simplicity that emerges as the crowning reward of art"
Frédéric Chopin
Each year La Folle Journée highlights the works of a major composer in the history of music. For its 16th edition, it chose to pay homage to one of the most compelling figures in musical romanticism: Frédéric Chopin. Characterised by a huge range of emotions and sentiments, all of which are conveyed in an easily accessible musical language, Chopin's works are amongst the most modern, both in terms of inspiration and on a compositional level. Six pianists from three different generations preformed their interpretations of Chopin's works during this edition of the festival: Anne Queffélec, Abdel Rahman El Bacha, Momo Kodama, Jean-Frédéric Neuburger, Philippe Giusiano and Iddo Bar-Shaï.
Rapidly accepted by the Parisian élite, Chopin led a worldly existence, which enabled him to frequent a number of virtuoso piano players and also to make the acquaintance of Liszt, Mendelssohn and Berlioz, who was the first person in France to recognise his enormous talent. Chopin also associated with less-well known composers and players such as the cellist Franchomme, pianists Czerny, Moscheles, Kalkbrenner, Herz, Alkan, Hiller and also Clara Wieck, Schumann's wife. Chopin was an admirer of the greats, such as Bach, whose preludes and fugues he played each morning, Handel whose oratorios he much admired, as well as Mozart.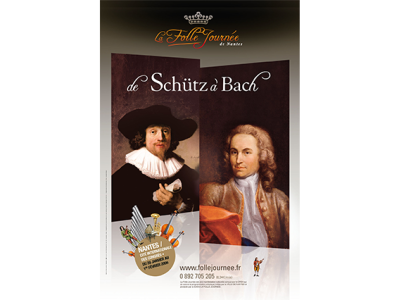 La folle Journée 2009 14e édition
La Folle Journée 2009
FROM SCHÜTZ TO BACH
"The aim and final end of all music should be none other than the glory of God and the refreshment of the soul. If we do not consider this, it is no longer music but diabolical honking and bawling". Johann Sebastian Bach
The 15th edition of La Folle Journée followed the paths that lead to Johann Sebastian Bach. It was therefore the fourth "Baroque" inspired edition following on from La Folle Journée de Bach in 2000, La Folle Journée inspired by Italy in 2003 and the "Harmony of Nations" in 2006. The 2009 edition aimed to expose the works of a number of composers who preceded Bach in northern Germany and whose works form Bach's musical heritage.
Jacob Praetorius, the great Schütz and his pupils (Matthias Weckmann, Christoph Bernhard, Johann Theile), Johann Adam Reincken, Buxtehude, Jacob Froberger are now recognised as the founders of German music. Their enormously rich works remain largely unknown, however. These works were therefore presented during the festival, most notably a hundred of Schütz' sacred works, including whole of the Psalms of David, History of the Resurrection and the Three Passions, which feature amongst the masterpieces of the first Baroque era.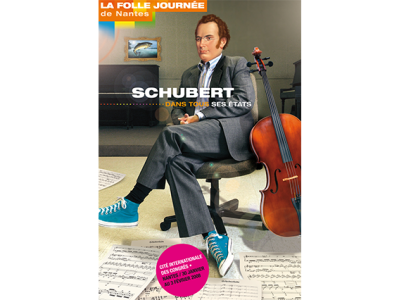 La folle Journée 2008 13e édition
La Folle Journée 2008
"Relish the present with discernment, and thus the past will be a happy memory and the future will not be a bogeyman"
Franz Schubert
For the 14th edition of La Folle Journée, three composers were invited to write a work in the style of Schubert, the great Viennese composer. They were the Japanese composers Dai Fujikura and Toshio Hosokawa and French composer, Bruno Mantovani.
During the 18th Century, Vienna was the European capital of music. The city was home to a succession of great names: Haydn, Mozart, Beethoven and Schubert. Perfectly symbolic of the romantic "roamer" ("Wanderer"), both in reality and in his works, Schubert is the last representative of a certain Viennese classicism. Innovative, full of admiration for Beethoven and free of all constraints, this creative genius disregarded all musical norms with his Lieder, for example, and over time became the equal of the Masters he so venerated (Goethe, Schiller, Heine). The composer had already written his first 13 quartets and eight first symphonies before Beethoven's Ninth Symphony was created in Vienna in 1824. He was also the source of inspiration for a friendly cultural group who called themselves the "Schubertiades".
Despite becoming forgetful in the later years of his life, Schubert is certainly one of the composers to have most influenced following generations. It is no longer possible to count the number of times his works have been reproduced over the course of the 19th and 20th centuries. His creations continue to inspire composers today.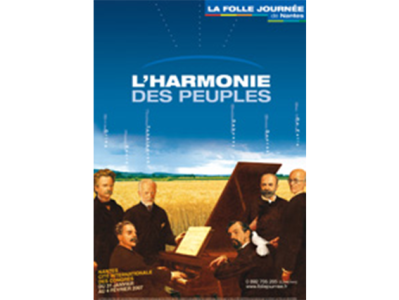 La folle Journée 2007 12e édition
La Folle Journée 2007
THE HARMONY OF PEOPLE
La Folle Journée 2007 focused its attentions on the 19th and 20th centuries and the prodigious composers of this time. With a series of 278 concerts, the festival aimed to demonstrate the expansion and flourishing of the national schools that rocked that European continent in 1848.
Rich in popular and historical traditions, the Russia of Glinka and Tchaikovsky was the first to become a great musical nation. The Czech, Hungarian and Scandinavian schools revealed their personality through their art music inspired by the popular songs that demonstrated the intense nationalism of the era. In Hungary in particular, Bartók expressed his patriotism by introducing traditional timbres and rhythms into his works. Others such as Berwald in Sweden, Grieg in Norway and Nielsen in Denmark drew on legends, folklore treasure troves and the landscapes of their countries for inspiration. Spain followed the trend and made manifest its national conscience, whilst numerous Spanish artists attracted by France sought refuge in Paris: Albeniz, Granados, De Falla and Rodrigo. French composers were in turn inspired by the works of these musicians and the surprising richness of Spanish music. Bizet, Fauré, Debussy, Ravel, Saint-Saëns recreated an imaginary, but profoundly authentic Spain in their music.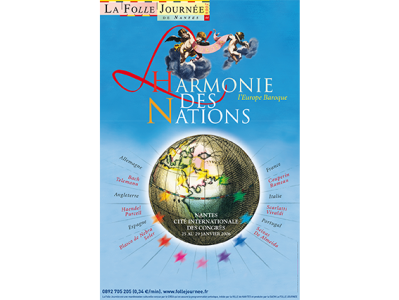 La folle Journée 2006 11e édition
La Folle Journée 2006
THE HARMONY OF NATIONS
Melody "doesn't only imitate, it speaks" wrote Rousseau, to which Rameau replied: "Harmony alone is capable of stirring passion".
For its 2006 edition, La Folle Journée de Nantes devoted its energies to revealing the big musical changes of the 17th and 18th centuries through a series of 265 concerts. Characterised by many quarrels relating to aesthetic and style and profound change, the years between 1650 and 1750 saw the rise of the regional schools around the great nations, which, from Germany to the Iberian Peninsula, from Italy to France and Britain, all shared an interest in music. During this era, which bore witness to a growing awareness of different national styles, both men and works travelled around the continent. Tight bonds were formed between the composers of the European provinces: Rameau for France, Bach for Germany, Purcell in England, then later the Italian Scarlatti who excelled at the harpsichord in Lisbon and Madrid, but also the Portuguese composer, Almeida, who studied in Italy where Vivaldi was making a triumph of the concerto form.
Rameau, who was of French origins, always maintained a certain interest in the music from the other side of the mountains after his voyage to Milan. Bach, who never left his native country, absorbed the trends in French music and Vivaldi's concertos to integrate them into Lutheran music. In England, Purcell maintained his Britishness, but was clearly influenced by French and Italian styles. And we are indebted to Handel for the English Oratorio, which is also greatly inspired by Italian art!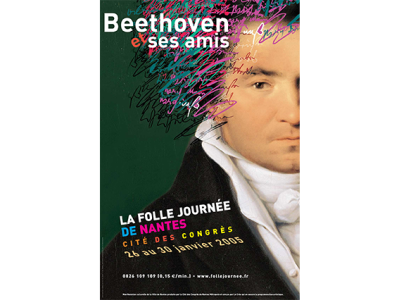 La folle Journée 2005 10e édition
La Folle Journée 2005
BEETHOVEN AND HIS FRIENDS
"If you want to be international, sing your country" Ludwig van Beethoven
As in 1996, La Folle Journée of 2005 was entirely devoted to the famous composer, Ludwig van Beethoven. Considered to be one of the biggest and most influential artists ever, he is also the first independent composer in the history of music. Guided by noble artistic ideas with humanist overtones, this revolutionary genius brought about the end of Viennese classicism and opened up the path for German romanticism. He was driven by his certitude that music should contribute to the progress of humanity, guiding it from ignorance to light.
Beethoven had a lot of friends, who were also represented in this edition of the festival.  Most of these relationships has been forged in the musical milieu of Vienna. When he moved there in 1792, the exceptional cultural capital was an obligatory stopping off point for musicians touring across Europe. By 1800, his reputation was such that he enjoyed the accolades of many other artists. Apart from his friends Weber and Clementi, whose works are still much appreciated today, most of the others are now rarely heard of. His friends included virtuoso musicians, prolific composers, publishers, authors and others who were witness to the life of this great composer. Today, we have a fascinating insight into Beethoven through the biographical works that were the carefully written by some of his closest friends, such as Ries and Moschelès.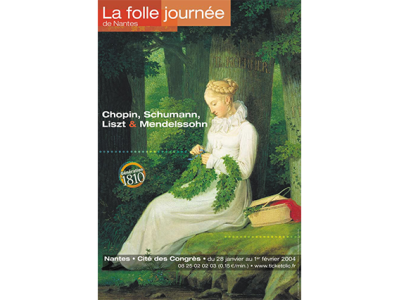 La folle Journée 2004 9e édition
La Folle Journée 2004
THE 1810 GENERATION: CHOPIN, SCHUMANN, LISZT, MENDELSSOHN
"For me, music is always the language which permits one to converse with the Beyond"
Robert Schumann
For its 10th edition, La Folle Journée reunited the four greatest musicians of the 19th century. Mendelssohn, Schumann, Chopin and Liszt, all born within three years of each other. These composers are characterised by their strong personalities, technical abilities, their refinement and also the over-riding mood of their works: Mendelssohn is brilliant and cultivated, Chopin demanding, Schumann a tortured soul and Liszt a great traveller. We also find the same ambition as that of the composers of the "1810 generation": musically gifted since their earliest childhood, they have all been inspired by the same sources, having had enormous admiration for the classical composers, such as Handel, Bach, Mozart, Haydn and Beethoven.
The four artists are all accomplished, all-rounded musicians, all four being virtuoso pianists, composers and music critics. Their works, with the possible exception of Chopin, bear witness to their quest, this visionary dimension, this contradictory, tortured critical spirit that is so often expressed in dreamlike, mythological inspirations that also inspire contemporary writers such as Gautier and Musset. Friendship was an even stronger bond than music for these four artists: Schumann deeply admired Chopin's music and was very upset by the death of his faithful friend, Mendelssohn. As for Chopin, he was introduced to George Sand by Liszt, who met his own future wife at Chopin's house...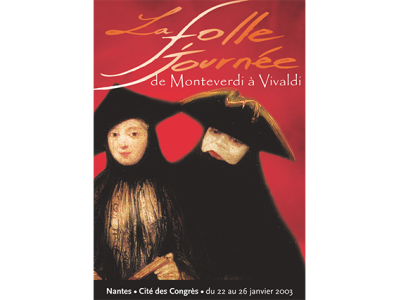 La folle Journée 2003 9e édition
La Folle Journée 2003
ITALIAN MUSIC FROM MONTEVERDI TO VIVALDI
"Music is the language of emotions." Emmanuel Kant
Italian music is where the transformation between tradition and modernity took place. La Folle Journée 2003 organised a flamboyant musical tout of Baroque Italy of the 16th and 17th centuries. From Baroque to the early stages of classicism, composers Gabriela, Palestrina, Gesualdo, Monteverdi, Scarlatti, Vivaldi, Pergolese and Clementi were the supporting pillars of the triumphant Italian schools.
 In the 15th century, a musical myriad brought the Franco-Flemish school and the Italian school together. The closer relationship between these European centres of music resulted in the Cinquecento. Towards the end of the 15th century, there were two cities and two royal courts that played a decisive role in the awakening of Italian music: Florence and Mantua. In the 16th and 17th centuries, Rome and Venice were also significant muse-cities, inspiring numerous composers who then dominated artistic creativity and brought changes to the field of music. Rome favoured the development of sacred music due to the Pope's presence and Venice developed the vocal and instrumental polyphonic style. The Neapolitan school was similarly influential. Home of Scarlatti, this musical centre was the birthplace of lyrical and dramatic opera, known as "opera seria". So we can view Italy as a musical kaleidoscope, whose works cannot be disassociated from the current of literary, philosophical and religious thought of the time.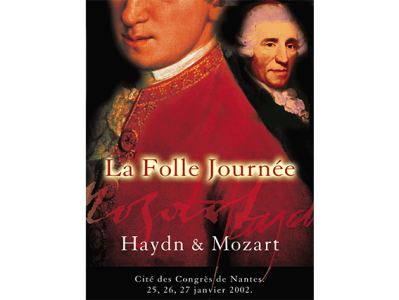 La folle Journée 2002 8e édition
La Folle Journée 2002
MOZART - HAYDN
"If I could imprint in the soul of each amateur musician, and especially in the soul of the leaders of this world, what I feel in response the inimitable works of Mozart, the nations of the world would compete to have such a jewel within their walls" »Joseph Haydn
For its 8th edition, La Folle Journée presented the two supreme master of classical music: Joseph Haydn (1732-1809) and Wolfgang Amadeus Mozart (1756-1791). Over the course of three days, from January 25th to 27th, La Folle Journée presented masterpieces by these two composers and rarely performed, yet exceptional compositions: the great masses and oratorios (Nelsonmesse, Theresienmesse, Pauken-messe, and The Creation by Haydn, Requiem, and Mass in B minor by Mozart etc.). Chamber works were also performed alongside the great symphonies, concertos and string quartets.
The two musicians, who had a friendly relationship, nevertheless had very different lives. Haydn served the Esterházy princes and didn't leave his native country until the age of 58, whereas Mozart, as a result of his precocious genius, was presented across Europe from the earliest age. Haydn and Mozart transcribed the musical language of their era to perfection, with all its delicacy, balance, finesse and tremendous emotion.
La folle Journée 2001 7e édition
La Folle Journée 2001
IVAN IIITCH
"Music is a revelation." Piotr Tchaikovsky
In 2001, La Folle Journeé indulged in a geographical and historical voyage across Russia, from Moscow and St Petersburg to countries that are now independent, and from the middle of the 19th century to our times. This seventh edition came about as a result of our aim to raise awareness of key composers who had made their mark on the history of music through their masterpieces. We also wanted to shed light on the Russian soul, endowed as it is with great sentimental strength.
The three days allowed us to present a large part of the Russian chamber music repertoire as well as a selection of choral, instrumental and orchestral works by composers such as Tchaikovsky, Moussorgsky, Glazounov, Glinka, Borodin, Scriabin, Rimski-Korsakov, Rachmaninov, Prokofiev, Stravinsky and Shostakovitch They were accompanied by numerous other composers, admittedly less well-known, but just as wonderful to discover for the very first time: Arensky, Lourié, Taneïev, Gretchaninov, Sviridov, Goubaïdoulina and Schnittke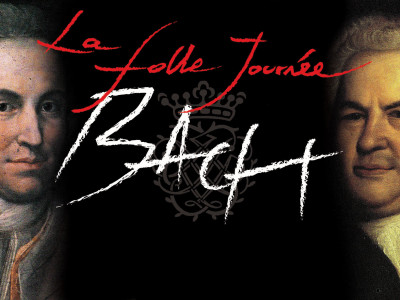 La folle Journée 2000 6e édition
La Folle Journée 2000
BACH
"I have worked hard. Anyone who works as I have can achieve the same." Johann Sebastian Bach
To start the millennium in style and commemorate the 250th anniversary of the death of Johann Sebastian Bach, cantor of Leipzig, the 6th edition of La Folle Journée dedicated three days to almost all of his solo instrumental works, his chamber music, his Brandenburg concertos, his choral works (passions, Mass in B, Magnificat), as well as part of his organ catalogue (an instrument was installed for the occasion in the main auditorium of the Cité des Congrès).
Johann Sebastian Bach (1685 - 1750) was a composer and organist of German origins whose works are figure amongst the monuments of classical music. From a family of musicians, Bach became an orphan at an early age, but was raised by his brother, also a musician and organist. He therefore had a solid training in singing, violin and organ, but it was through studying hard that he mastered the art of composition. Disregarding the mood of his era, Bach's music is full of emotion, even three centuries on. It travels through history and through men with the same freshness that characterised it at the time of composition. The composer's musical heritage was maintained by his sons for a generation, but the Romantics then brought it back into line with musical tastes of the day. Today his music benefits from the passionate and demanding interpretations of some of the most dedicated performers of our century.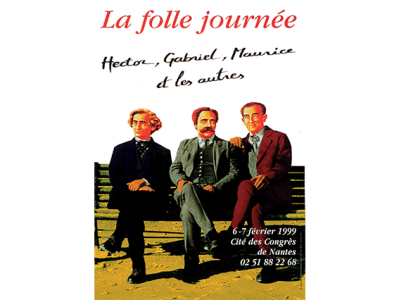 La folle Journée 1999 5e édition
La Folle Journée 1999
HECTOR, GABRIEL, MAURICE AND THE OTHERS
"Being lucky enough to have talent isn't enough; you also need to have the talent for luck." Hector Berlioz
In 1999, after four years dedicated to romantically-inclined composers, La Folle Journée opened up to new possibilities by focusing on a century of French music by Hector Berlioz, Gabriel Fauré and Maurice Ravel, great composers who left their mark on the 19th century. This 5th edition took place on 6th and 7th February and the variety and originality of the programme met with great success: from 1830 (creation of the Symphonie Fantastique) to the Second World War, it brought back to life the great composers of the era.
The two days in the Cité des Congrès in Nantes covered nearly all of the chamber music composed by Berlioz, Ravel, Fauré, Saint-Saëns, Franck, Debussy as well as a large range of their choral, instrumental and orchestral works. They were accompanied by a host of other composers: Kœchlin, Roussel, Offenbach, Magnard, Lalo, Satie, Dukas, Duparc, Chabrier, Caplet, Bizet… without failing to mention other less well-known composers, such as Ladmirault, Pierné, Schmitt, Cras, Séverac and Lekeu.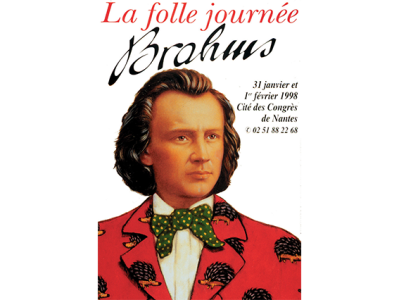 La folle Journée 1998 4e édition
La Folle Journée 1998
BRAHMS
"Without craftsmanship, inspiration is a mere reed shaken in the wind." Johannes Brahms
From the 31st January to 1st February 1998, the German composer, pianist and conductor, Johannes Brahms, was the focus of attentions at the La Folle Journée festival.
Born in Hamburg in 1833, deceased in Vienna in 1897, Brahms is considered to be one of the most influential musicians of the Romantic period and the "successor" to Ludwig van Beethoven. More precisely, he positioned himself as the hinge between classicism and romanticism. This composer for piano players, chamber musicians, symphony orchestras and voice and choirs spent much of his career in Vienna. His father, a double bass player, gave him his first music lessons. Later on he would work with the famous teacher, Eduard Marxsen, who introduced him to the works of J.S. Bach.
Brahms' work cover all genres except opera. Over the course of his first professional experiences, he acquired a solid understanding of choral and chamber composition. Combining both a traditionalist and innovative approaches, his music incorporates structures and compositional techniques used by Baroque and classical masters. Brahms' life was influences by meetings with Antonin Dvorak, Wagner, Schumann and Joseph Joachim, with whom he forged great friendships. His music, criticised by his contemporaries as being "too academic", was subsequently much admired by musical personalities such as Arnold Schœnberg and Edward Elgar.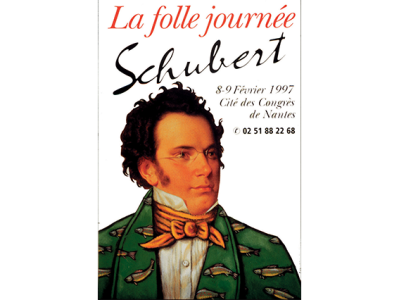 La folle Journée 1997 3e édition
La Folle Journée 1997
SCHUBERT
"Relish the present with discernment, and thus the past will be a happy memory and the future will not be a bogeyman" Franz Schubert
1997 was the bicentenary of the Franz Schubert's birth. The city of Nantes and the La Folle Journée festival celebrated this anniversary with a third edition dedicated to this man whose earthly purpose was to compose.
Born in Vienna in 1797, Schubert is a composer who is considered to be "from classical to romanticism". He was taught the violin by his father and the piano by his brother and also received a thorough musical education (singing, viola, organ, counterpoint and harmony) from his teacher, Michael Holzer. Whilst he played his violin in the orchestra at the municipal school, Stadtkonvikt, he also studied under Salieri. After studying for a few years in the school that his father directed, he decided to dedicate himself entirely to his gift: music.
By focusing solely on composition, Schubert became the father of the German romantic Lied with his first masterpiece, Gretchen am Spinnrade D118, created in 1814. Goethe, Rückert, Shakespeare and Wilhelm Müller were his favourite poets for the composition of his 600 Lieder. Admired by a certain elite and having become accustomed to private musical evenings referred to as "Schubertiades", Schubert gave his only public concert in Vienna just a few months before his death.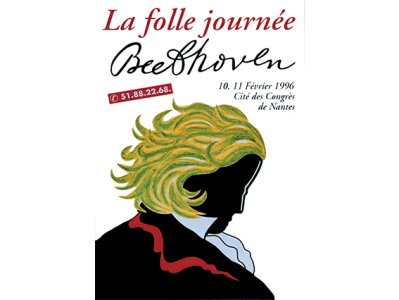 La folle Journée 1996 2e édition
La Folle Journée 1996
BEETHOVEN
"Music is a high revelation than all wisdom and all philosophy" Ludwig van Beethoven
On 10th and 11th February 1996, La Folle Journée celebrated the life of the great composer, Beethoven, with a series of concerts, exhibitions, conferences, videos and films.
German composer and pianist, Beethoven was born in 1770 in Bonn, Germany. Representative of Viennese classicism, this great composer was inspired by the Romantic style and influenced western music for a large part of the 19th century. His art is expressed in a variety of musical genres, and whilst his Ninth Symphony is the most well-known example of his work and considered to be the principle source of his genius and his reputation, he nonetheless had a huge impact on compositions for piano and chamber music.
He particularly left his mark on three musical genres: the symphony, the quartet and the sonata. The composer knew how to take his music out of the usual classical context by encouraging it to evolve into another form that was better suited to the expression of feeling. His creativity was revealed at a time when Europe was in a state of social and political upheaval, which finally gave rise to democracy. Beethoven performed for the Viennese public for the first time in 1795, which was followed a year later by a series of concerts in Prague, Dresden, Leipzig, Berlin and Budapest... A few years later, affected by deafness, he composed a large part of his works that are the most well-known today: 8 of 9 symphonies, 27 of 32 piano sonatas, 10 sonatas for violin and piano, 5 sonatas for cello and piano...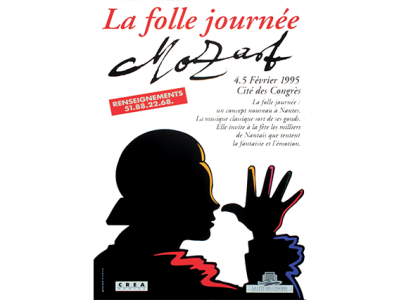 La folle Journée 1995 1e édition
La Folle Journée 1995
MOZART
"I look for notes that love each other" Wolfgang Amadeus Mozart
For this first edition of the La Folle Journée, the whole of the Cité des Congrès in Nantes transformed itself into Vienna for two days to celebrate the eternal youth of Mozart. This composer, one of the most influential in the history of western music, inspired the concept of this festival and also its name, La Folle Journée, which comes from his famous The Marriage of Figaro.
Mozart was born in Salzburg in January 1756. This great composer of classical music embraced all the musical genres of his era. He was a virtuoso harpsichord and violin player and was successful from an early age. His father, who was an important figure throughout his life, helped him enormously in the development of his outstanding career. He taught him music from a very early age and organised his first public concert. The prodigy performed in numerous European cities and was very soon solicited by the nobility: in Vienna, it was Empress Maria Theresa, in Versailles by the royal family and court and in London by George III.
Mozart composed more than 600 works over 35 years. They bear testimony to his genius, mastery and innovative approach. He handled the concerto, symphony and sonata forms to perfection, and transforming them into the mainstays of classical music. He was also one of the greatest masters of opera.