History
MORE THAN 20 YEARS OF FOLIE AND DICOVERY An exceptional festival
A unique festival, La Folle Journée has never lasted only a single journée, or day: In 1995, its very first year, concerts were programmed throughout the weekend.
Today, following its increasing success, the event takes place in numerous venues over five days. Previously held in la Cité des Congrès and the Lieu Unique, the festival also used the Serre du Jardin des Plantes and 8 halls belonging to the city of Nantes.
On average, La Folle Journée sells 140,000 tickets to 250 concerts featuring 1,500 artists taking place from Wednesday to Sunday between 10am and 11pm. 
The sweet madness of this constantly evolving festival!
The concept
La Folle Journée aims to offer a wide panorama of all music styles, from Baroque and Romantic to contemporary music, that reflect the theme of the current edition. The festival welcomes international artists, upcoming talent and also amateur artists.
To make each work more accessible, concerts last no more than 45 minutes. Everybody is free to create their own concert trail, to pick and choose from the vast selection of concerts on offer, depending on their own rhythm, interests and desires.
The organisers
THE CREA
LA CITE DES CONGRES

La Cité des Congrès produces the festival and works in close collaboration with the CRÉA (Centre for Artistic Development and Study), which is responsible for the artistic direction of the event.
President: Jacques Dagault
Artistic director : René Martin
La Cité des Congrès and the CREA work together on strategic developments contributing to the modernisation and evolutions of the festival.
CITE DES CONGRES

President: Francky TRICHET
General Manager : Denis CAILLE
 
LE KIOSQUE
Symbolic of the festival's approach, this open stage hosts works interpreted by both amateur ensembles and the Festival's eminent artists.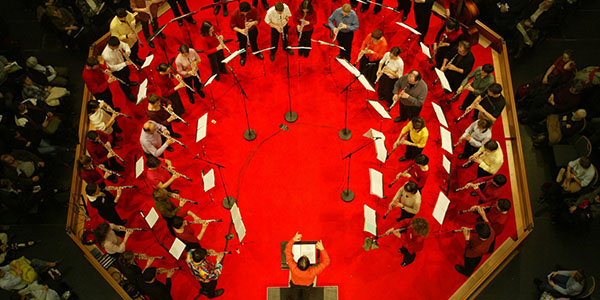 ORIGINAL WORKS
Contemporary composers are invited to work on unpublished works.
In 2016, Ezra and Compagnie Organic Orchestra, in collaboration with pianist, Francesco Tristano, created Time Lapse for La Folle Journée.